A new study shows weaknesses in the EU's geo-economic strategy: Mario Holzner, Director of the Vienna Institute for International Economic Studies (wiiw), presented a new paper on the geo-economic realities and weaknesses in the EU's economic strategy at an IFWK* press briefing. A surprising insight was that the identified weaknesses could be fixed relatively easily while generating a comparatively large economic and political leverage.
Europe has seen a succession of crises for some time: recurring economic and political upheavals continue to destabilize the European Union. Currently, we are seeing multiple crises layered on top of each other: financial, economic and energy crises, a pandemic, and the war in Ukraine – not to mention issues such as social division, the lack of trust in authorities or the erosion of democracy.
We have been sliding from one crisis into the next since 2007. The EU therefore urgently needs to consider how we will address these geo-economic changes in the future and what position we want to take towards the major economic and political powers.

Mario Holzner
wiiw Director Mario Holzner warned that the EU risks being struck by further crises if it does not manage to bundle its economic power and translate its geoeconomic position into geopolitical influence. The key to this strategy would lie in collaboration with its neighboring states, above all.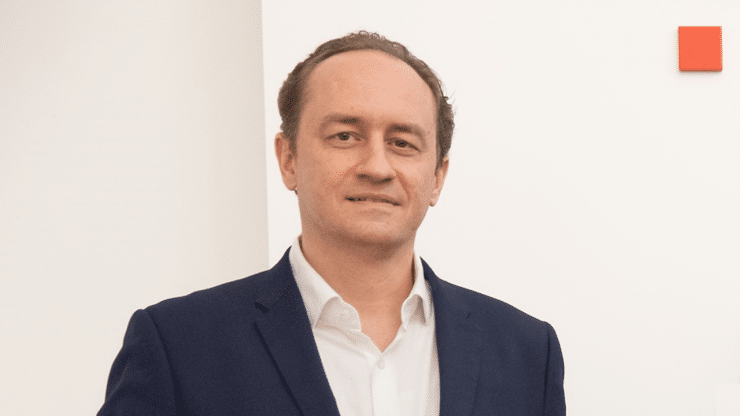 Holzner's remarks were based on a new study conducted by wiiw in cooperation with the Bertelsmann Stiftung, presented for the first time in Austria at an IFWK press briefing (study download at the bottom of the page). The study highlights the implications of current political and economic events for the EU and includes recommendations for its future engagement with neighboring countries. "For the EU, it is now crucial to consider how the Union can use its strong geo-economic influence in neighboring countries in the political arena as well," Holzner stressed.
China is gaining ground in the EU's neighborhood
In the field of technology and knowledge transfer, the EU is increasingly losing ground in neighboring countries. According to the study, although the EU is the most important trading partner for most of its neighboring countries, China is increasingly catching up in the immediate neighborhood of the European Union. Up to a third of all high-tech imports now come from China, especially in the southeastern neighboring countries. Given the lack of an industrial base in many of these countries, urgent action is needed here, Holzner said. "Our neighboring countries need better access to EU markets. These countries are strong in particular sectors, such as agriculture, but still lack fair trade agreements with the EU." Additionally, support for institutional development is needed, e.g. for the establishment of certification agencies, and much more.
High tech: Europe is pretty "late to the party"
Especially in high-tech and green industry, Europe arrives rather late to the party. "China has already been pushing its own key technologies for ten years, including in the area of chip production. The US is pursuing similar strategies. Only now, the EU is starting to do so. There is an urgent need to invest in digital technologies and to better integrate our neighboring countries into the digital markets," Holzner analyzes.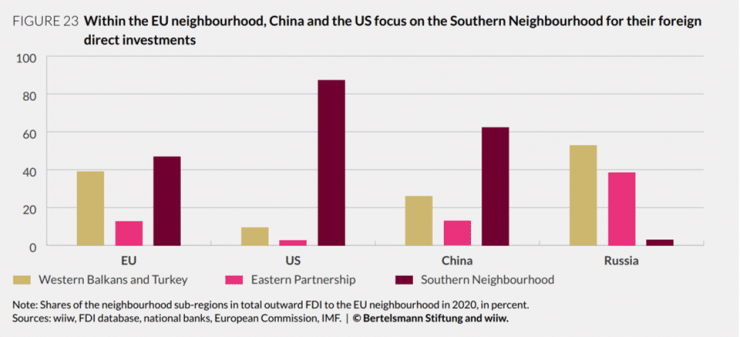 Africa as a partner in labor mobility
Europe is an aging continent – which is now evident in both labor shortages and pension systems. Holzner: "The working-age population is shrinking. Soon, five percent of Europe's current working population will be retired."
The issue of labor mobility should therefore form an integral part of the discussion on the EU's commitment to its neighboring countries, Mario Holzner explained. "Europe in its entirety is an aging continent. On the other hand, Europe's southern neighborhood, including Africa, has still a massively increasing working-age population. The EU should therefore strategically focus more on these countries when it comes to the labor market of the future. Currently, however, we see much 'brain waste'. Many immigrants are well educated, but then spend their entire working lives in jobs for which they are overqualified – while skilled workers are urgently needed."
Green energy as an opportunity
When it comes to the question of how sufficiently green energy can be provided in the future to achieve the Union's climate targets, neighboring countries should also play a leading role. Holzner: "Our southern neighbors have perfect conditions for the production of Sustainable Alternative Fuels or e-fuels; there is also plenty of space for wind turbines and a lot of sun. We should not only look for solutions and partners within our borders but cooperate and invest in a targeted manner in our neighborhood."
Competition paralyzes coordination and cooperation in Europe
One of the main problems with all the considerations mentioned is that Europe, unlike the US or China, is not united: "Countries are still in competition with each other rather than collaborating," Mario Holzner concluded, citing an example: "Nation-state subsidies in individual European countries will tear the common market apart because, once again, only the richer EU countries can afford them."
---
Study download: https://wiiw.ac.at/keeping-friends-closer-why-the-eu-should-address-new-geoeconomic-realities-and-get-its-neighbours-back-in-the-fold-p-6487.html
* The IFWK (https://ifwk.net) is a membership association of executives and business journalists with the goal to facilitate the communication of complex issues in the realm of business, economics and technology.